If you're looking for a vehicle that can handle a little bit of everything, the Jeep Wrangler might be the perfect choice for you. This iconic off-road vehicle is perfect for exploring the wilderness, taking on rugged terrain, or going on rough excursions in your local town. But what is the best Jeep for off-roading? We'll tell you all about it in this article!
Before we start, you can read more about off-road Jeeps in our article: Best Off Road Jeep – A Guide
---
What is Jeep
A Jeep is a brand of automobile that is known for its off-road capabilities.
The US Military asked the American Bantam Car Company to develop and construct the original Jeep, and they did so in just 75 days. Only Willys-Overland and American Bantam responded after receiving more than 100 bid inquiries from businesses all throughout the US. The military desired a vehicle that could quickly traverse difficult terrain and was both light and tough.
The Jeep was sufficiently reliable when it was initially created and manufactured, but the popular Jeep models of today have more problems.
It's unclear whether this is a result of the vehicles' being designed for a certain function during World War 2 and the criteria and expectations have grown.
But it's obvious that, when looked at closely, Jeep's reliability has declined recently.
There are different models that offer different levels of off-road capability, so it's important to research which one is right for you. If you're looking for the perfect vehicle to take on adventurous trails, a jeep is a perfect choice!
---
What is the Best Jeep for Off-Roading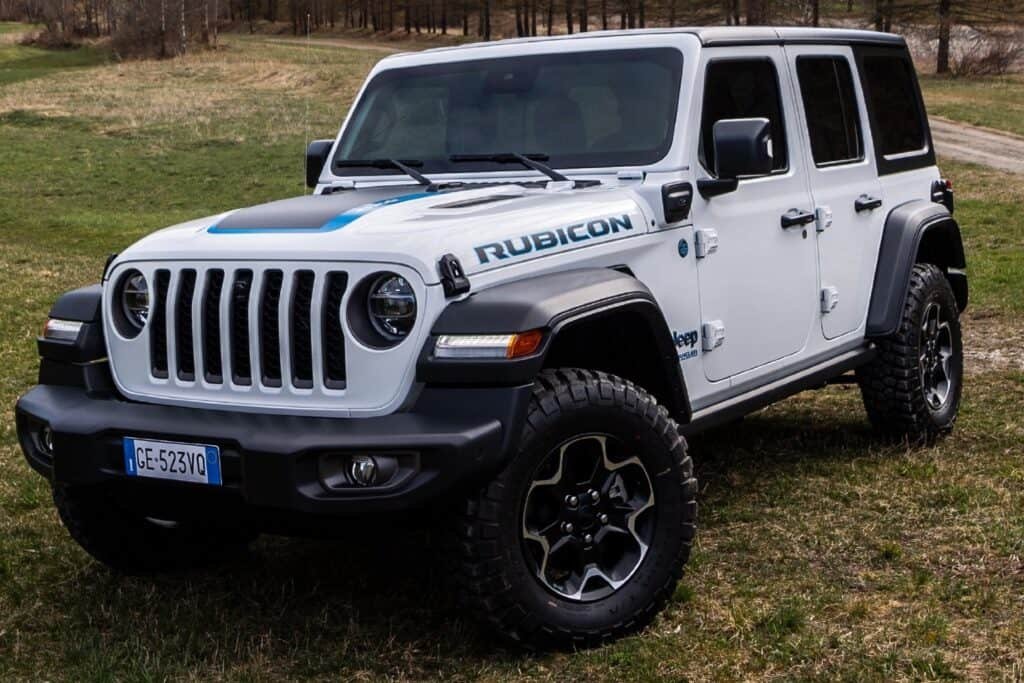 2022 Jeep Wrangler
For genuine off-roaders who seek unadulterated capability with the freedom to remove the doors, roof, and even lower the windshield, the Wrangler has long been the go-to vehicle.
It comes in a variety of trims and comes with a hard or soft top in two-door or four-door body configurations. A turbo-four, a V6, a strong V8, and a reliable plug-in hybrid are all available as options for the engine.
With an easy-to-use infotainment system and a variety of add-on amenities, the interior is both tough and comfy.
The Wrangler is perfect for active lives but lacks some of its less competent competitors' innate safety features and on-road skills.
What's New?
Except for the base two-door Sport without air conditioning, all models come standard with a 7-inch infotainment touchscreen.
The 8.4-inch infotainment display, premium audio, and remote proximity keyless entry are now standard on Rubicon and Sahara models.
Xtreme Recon Package is a possible option for the four-door Willys trim.
While all 4xe levels include wheels with a blue pad print, Sahara 4xe receives standard blue tow hooks.
A limited run of 500 units of a special edition Wrangler High Tide with High-Velocity yellow paint has been added to the range.
updated Gobi exterior paint
conventional cabin air filter
Pros
Road-capable off-road
available V8 and plug-in hybrid vehicles
retractable roof and doors
Cons
average fuel efficiency
Price increases rapidly.
lacks calmness while driving
Are you having difficulty coping with your anxiety or stress? If you're looking for a Therapist Coffee Mug, this is it. It not only looks good, but it also keeps your drinks hot or cold for hours. Plus, the print quality is great, which ensures that your mug will continue to look nice for years to come.
Is the 2022 Jeep Wrangler worth it
The two-door form is only preferable if backseat passengers are infrequent. Otherwise, stay with the four-door model for simpler access to the back seats and space for a third passenger.
The 2.0-liter turbocharged 4-cylinder engine is a cost-free option that provides good performance and good fuel efficiency. The plug-in hybrid is another excellent choice, but it is more expensive.
With the Sahara, we'd aim towards the middle of the lineup for the ideal balance of basic safety and convenience features and packages to let you customize your Wrangler to your own taste.
The Rubicon should be taken into account by those who intend to engage in aggressive off-roading, but its capabilities come at a cost. On the other hand, unless the off-road conditions are extremely difficult, you don't need to climb that far up the trim ladder.
2022 Jeep Grand Cherokee
The Grand Cherokee, revised by Jeep for 2022, maintains the usability and comfort that the model is known for while leaning toward luxury and capabilities, producing a model that is superior to the usual mass-market SUV.
The 2018 Grand Cherokee is a serious rival to luxury manufacturers like Land Rover thanks to a sumptuous cabin with optional frills like quad-zone temperature control, heated and ventilated front and rear seats, and a segment-exclusive passenger-side dash screen.
Even the standard model offers 8.4 inches of ground clearance, compared to 11.3 inches for the Trailhawk's robust off-road equipment.
There is something for everyone here thanks to the three available powertrains, which include the 4xe plug-in hybrid and a three-row model with an extended wheelbase (the Grand Cherokee L).
What's New?
In 2022, the Grand Cherokee will enter its fifth generation, riding on a brand-new platform derived from Alfa Romeo.
The 4xE, a plug-in hybrid model, is a first for the Cherokee lineup.
In 2022, the "WK" version of the Grand Cherokee from the previous generation will still be marketed.
Pros
Off-road capabilities are actually there, especially in Trailhawk trim.
The 4xe plug-in hybrid achieves a remarkable 56 mpge.
A buttery-smooth, whisper-quiet ride
Cons
Infotainment frequently overcomplicates some tasks.
Some manual controls seem too small and complicated.
Too much piano black interior trim that attracts dust for a car that will likely spend time in the woods
Is the 2022 Jeep Grand Cherokee Worth It
The Grand Cherokee occupies a middle ground between affordable and upscale midsize SUVs, so your opinion of its worth will depend on who you consider its rivals. No model is inexpensive; the entry-level rear-drive Laredo V6 costs $40,515.
When compared to the base Land Rover Defender 110 ($54,975, though that comes with standard 4WD), that seems like a great deal. The value equation is less clear when compared to the base Kia Telluride ($34,725).
While you would need to upgrade to the Grand Cherokee L with its $42,120 price tag to seat seven in the Jeep, the Kia offers identical baseline safety technology, a larger standard 10.25-inch touchscreen, and an additional row of seats.
---
Conclusion
Jeep off-road vehicles are some of the most popular in the world for a reason. They are versatile, reliable, and perfect for off-road adventures. In this blog, we will be discussing the different models of Jeep and their off-road capabilities. Make sure to check back to our website for more helpful jeep information!