Jeep is a brand of American-made 4-wheel-drive vehicles. The Jeep is known for its off-road capabilities, and off-road Jeeps are some of the most popular models. With all the different models to choose from, it can be hard to decide which is the best Jeep for off-road use.
If you're looking for a Jeep that can handle some serious off-road action, you'll want to check out the models in the Jeep Wrangler lineup. These vehicles are built for those who love to go off the beaten path, and they offer a ton of versatility and capability.
In this article, we'll take a closer look at some of the best Jeeps for off-road use, and help you figure out which one is right for you.
Before we start, you can read more about off-road Jeeps in our article: Best Off Road Jeep – A Guide
---
Best Jeep for Off-Road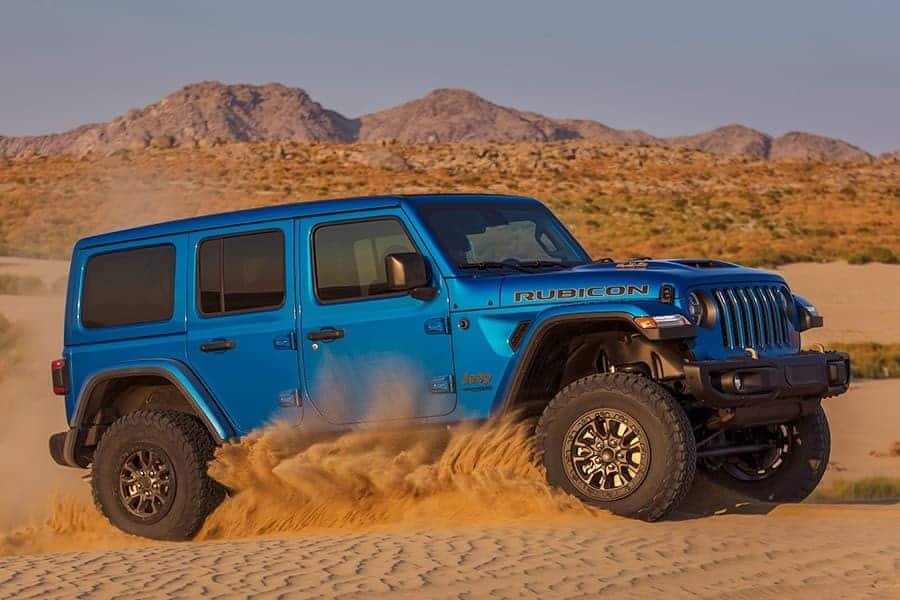 Jeep Wrangler Rubicon
To help you gain even more traction, the Rubicon models provide extra off-roading features including full locking differentials.
It includes a set of 33-inch BF Goodrich KM tires that are capable of handling anything. The Wrangler will continue to move even when other vehicles halt, thanks to all these features and the superb tires.
To effortlessly climb over obstacles without causing any damage, each Wrangler model will have a significant level of clearance, including 10.9 inches, and a few various angles, including breakover, departure, and approach.
Jeep Wrangler Willys Limited Edition
The 2020 Jeep Wrangler Willys is the greatest choice if you want something that will stand out and that only a small number of people will own because it is a limited edition. The 1948 Willys Overland, which is regarded as the origin of all recreational vehicles, served as the model for this one.
The 2020 Jeep Wrangler Willys has been able to maintain some of the iconic styles that customers have come to expect from this vehicle while including some heavy-duty Trial Rated component modifications.
You will be prepared to go as soon as you drive this limited-edition vehicle off the lot because everything about it screams rugged terrain and having fun. This vehicle will draw attention while assisting you in doing any adventure you desire.
With 32-inch Firestone Mud-Terrain Tires mounted on 17-inch five-spoke wheels, this vehicle will take to the trails. In order to offer something special to the design, the wheels also have a gray pad print of the original Willys.
Jeep Gladiator
One of the first Jeep pickup trucks since the 1992 discontinuation of the XJ Comanche is the Gladiator. Because it is based on the Jeep Wrangler that we previously discussed, this one is a little different because it offers us the advantages of a truck while also combining them with the fantastic off-road experience you have grown to love with Jeep Wrangler.
You may use this vehicle to tow anything you want in any circumstance. It has the best-in-class payload capacity of 1660 pounds and the best-in-class towing capacity of 7650 pounds.
The Gladiator features a distinctive frame that is 31 inches longer than the Wrangler while being built on the Wrangler. The rear coil suspension, which is helpful, is moving smoothly.
Jeep Grand Cherokee
The Jeep Grand Cherokee has long been a fan favorite, and the most recent model will offer you the same level of comfort and ease of operation that you have come to expect from this particular model.
The Grand Cherokee can still be used for off-roading and any other form of driving, even though the exterior may not look exactly the same as it did in the past.
The Grand Cherokee certainly has its devotees, but this latest model is not going to deviate significantly from previous iterations. The Premium SUV will continue to be a roomy and elegant performance on and off the road, equipped with all the technology you want.
It now has extra characteristics that enable it to climb and descend even the most difficult terrain.
Jeep Grand Wagoneer
This model, which dates back to the 1990s, has all the attributes you want in an off-road vehicle. They compete with a few higher-end options like the Lincoln Navigator or the Cadillac Escalade and have a full-sized body and frame similar to SUVs.
No matter what kind of road conditions you may encounter, the Wagoneer and Grand Wagoneer's body is made to last. The wheels are reliable and substantial enough to move up and down whatever surface you choose.
Jeep Renegade
Since its introduction, the Jeep Renegade has been one of the brand's best-selling automobiles. And it takes little time to understand why.
This one performs admirably on most terrains despite not being as tough and prepared to take on rough roads as some of the others. It also adds style and comfort to the game. Once you're in the driver's seat, you'll see how Jeep stands out thanks to its adaptability and tough appearance.
---
Keys When Choosing an Off-road Jeep
Choosing the best Jeep for off-road adventures can be a daunting task. After all, there are a lot of different models and specs to take into account. But don't worry – we're here to help! Here are some key things to keep in mind when choosing an off-road Jeep:
Large Tires
Large tires are a must for off-road jeepers. They provide better traction and stability when traversing difficult terrains, making them the best choice for anyone looking to drive their jeep in extreme conditions.
Make sure to keep a spare tire and all the necessary tools handy so that you can change it if needed. Not having the right tires will result in decreased vehicle performance, increased fuel consumption, and even potential damage to your jeep. So make sure to equip your Jeep with large off-road tires!
Flexible Suspension
Not all of the vehicles you can drive on the road perform well off-road. Your car will bounce around and perhaps get stuck if you don't have a solid suspension system in place. Choose a car with adjustable suspension so it can tackle any terrain you desire.
Robust Drivetrain
The drivetrain is crucial if you routinely intend to travel across rough terrain. You need enough force to climb and descend hills, rocks, and whatever else the open trail may present. A good off-road vehicle will take care of this.
Enough Cargo Space
A bonus is having adequate cargo room to manage this and hold anything you want to bring.
You can select the level of cargo space that works best for you because each Jeep model offers a varied amount of it. Jeep has you covered whether you're traveling alone or with the whole family.
Fuel-Efficient
Finding a suitable balance between durability and fuel efficiency is crucial. No one wants to go about in a gas guzzler and end up with a hefty bill at the end of the week.
Many of the more recent off-road vehicles are built with fuel efficiency in mind, making them as light and maneuverable as they can be while yet being able to handle any terrain.
High Performing Brakes
Even though we might not give them enough attention, make sure that the off-road vehicle you purchase has effective brakes. Wet and uneven surfaces might cause slips.
A strong slip that could result in an accident can be avoided with a robust, well-maintained brake. The open road may bring anything, so being ready and having functional brakes are essential.
Preventative Roll-over Systems
If you intend to stay in town for the majority of your visit, this is not necessary. But occasionally when you venture out, the terrain can deteriorate.
If the terrain starts to tilt you over a little, having these systems will help you be ready. This aids in leveling you out and ensuring that you are as steady as you can be on any surface.
What would you want to buy for a cigar smoker who has everything? Our cigar mug is the ideal gift for the seasoned cigar smoker in your life! Our mugs are the ideal gift for any man because they are individually wrapped and beautifully presented in an exquisite box. Therefore, don't delay and purchase the cigar coffee mug right now!
---
Conclusion
If you're looking for the best Jeep for off-road, you're in for a treat! Our experts have ranked the best off-road jeeps for different types of terrain, so you can find the perfect one for your needs. Take a look at our blog and choose the Jeep that best suits your needs. We guarantee you won't be disappointed!