Jeep is one of the best-selling automotive brands in the world, and for good reason. The jeep models available today are perfect for off-roading, making them a popular choice for those who want to explore nature at its finest.
In this post, we'll take a look at some of the best jeeps for off-roading. From SUVs to jeeps that can handle off-road terrain like nothing else, we've got you covered! So whether you're a beginner looking for a jeep to drive on dirt roads or an experienced off-road enthusiast who wants to explore new terrain, be sure to check out this list!
Before we start, you can read more about off-road Jeeps in our article: Best Off Road Jeep – A Guide
---
The Best Jeeps for Off-Roading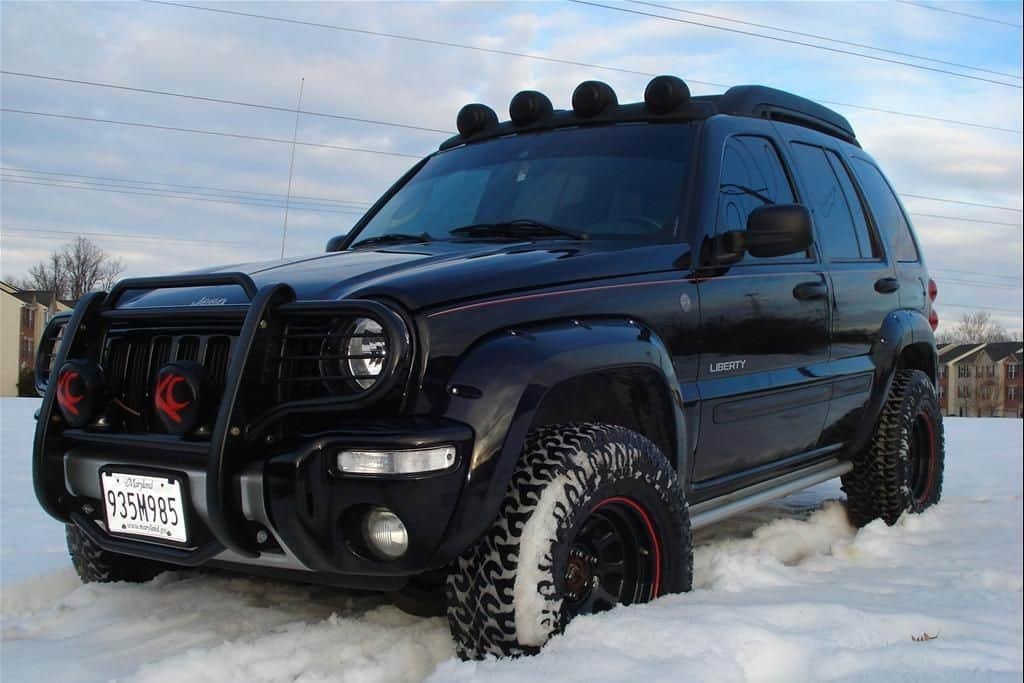 Jeep off-roading is a great way to explore the countryside and enjoy nature. On off-road trails, all Jeeps generally operate without incident, but some models clearly perform better than others. While Jeep Wranglers are among the most well-liked options for off-road vehicles, other Jeep models perform almost as well. So, which Jeep models are ideal for off-road driving?
Jeep Liberty
The Jeep Liberty is the perfect car if you want something larger than a regular Jeep but smaller than a giant SUV.
This is a compact SUV that offers more space than a regular Jeep without being as clumsy as a big SUV.
A V6 engine, full skin-plate armoring, and 4-wheel drive are just a few of the Jeep Liberty's practical characteristics that will be helpful on the trail.
The body load points on the Liberty are closely aligned with the longitudinal rail structure, giving the vehicle a strong feel both on and off-road. Liberty is constructed on what Jeep engineers refer to as a "uni-frame," which is stiffer than a typical unibody.
The Grand Cherokee, the previous stiffness champion for the firm, is outperformed by Liberty's torsional stiffness by a factor of 43.
Jeep Wrangler Rubicon
The Jeep Wrangler Rubicon is the undisputed king of off-roading. This Jeep is regarded by many as the most legendary of all time due to its exceptional off-road prowess.
This Jeep can take on any route at any moment because of its 4-wheel drive system, skid plates, high ground clearance, and high crawl ratio. This Jeep's crawl ratio enables it to maintain traction on slick ground, making it an excellent choice for driving through gravel or loose boulders.
The Rubicon's OEM tires are also strong, resilient, and capable of withstanding even the most challenging trails.
Rubicons can undertake rock crawling, mudding, and climbing in addition to handling the toughest off-road difficulties. Clearly, the Jeep Wrangler Rubicon will continue to rule off-roading for many years thanks to all these incredible characteristics.
Jeep Grand Cherokee
When considering which Jeep is the best for off-roading, the Grand Cherokee may not be the first vehicle that springs to mind, but it has some promise.
One of the best SUVs for off-roading is the Jeep Grand Cherokee. It has excellent suspension, is roomy, and has all-wheel drive, so you can travel through mountains or to the grocery store.
Both the Grand Cherokee's V6 and V8 engines offer the amount of horsepower required to navigate difficult terrain.
Owners of Grand Cherokees, however, contend that the V8 is a better option, so if you intend to use yours for off-roading, go for the V8 and make good use of the extra power.
This type is renowned for its strength as well as its roomy cabin. The Jeep Grand Cherokee can effortlessly transport you, all your gear, and the entire family to wherever you need to go on off-roading, camping, or biking adventure.
Jeep Gladiator
Drive a Jeep Gladiator if you require extra room for camping or biking gear in your vehicle. One of the first Jeep pickup trucks, the Gladiator functions admirably both on and off the road. It blends your favorite aspects of trucks and Jeep Wranglers into a single automobile.
It is capable of hauling 7,650 pounds and carrying 1,660 pounds of payload. Additionally, it has a fantastic 4-wheel drive system that enables you to navigate through the most difficult terrain.
Additionally, Jeep Gladiator aftermarket parts make it quite simple to update and customize these vehicles. These accessories provide your Jeep a distinctive appearance and flair in addition to safeguarding it against trail hazards.
Jeep Wrangler Willys
The 1948-built Willys Overland and the Jeep Wrangler Willys are both excellent options for your off-roading adventures.
Many of the features and parts of this type are shared with the original 1948 Jeep that was employed in World War II.
This type is a fantastic off-road vehicle because of its high-performance shock absorbers, 32-inch wheels, and 4-wheel drive. The 2020 Jeep Wrangler Willys is a limited-edition vehicle as well, making it stand out on the road.
Jeep Renegade
You occasionally need a vehicle with some speed to travel across flat terrain quickly. The Jeep Renegade has Terrain Traction Control and is a quick, agile vehicle.
With the help of Terrain Traction Control, your Jeep can traverse sand, sleet, snow, gravel, dirt, and rocks with ease.
This vehicle, which is an SUV like the Jeep Grand Cherokee, has lots of space for passengers, luggage, and equipment. Even sunroofs on some Jeep Renegades feature removable glass panes so you can take advantage of the sunshine and fresh air.
Jeep Wagoneer
Don't be fooled by the Jeep Wagoneer's sleek and fashionable exterior. The Wagoneer is strong, dependable, and equipped to endure the vast outdoors behind its fashionable appearance.
It boasts 4-wheel drive, robust axles, and a full-size body. It's an excellent car to drive to work or in the countryside because it performs well on and off the road.
Jeep Compass
The Jeep Compass is another SUV Jeep that can be driven on off-road paths. This SUV is capable of navigating even the most difficult terrain thanks to its 9.1 inches of ground clearance, 17-inch all-terrain tires, and 4-wheel drive.
It's roomy, so you can fit all of your equipment, along with your family, friends, food, and other things.
Jeep Patriot
The Jeep Patriot boasts 4-wheel drive, 17-inch all-terrain tires, and the same ability to traverse 19 inches of standing water as the Jeep Compass.
It can even climb rocks because of its 4-wheel drive system. The Jeep Patriot is a fantastic option if you require a car for intense off-road activities like rock crawling and mudding.
---
Are you sick of using the same old cup? Eventually, you may start your day with a one-of-a-kind and stylish coffee mug that reflects your personality, thanks to a trader mug. Both sides of this mug have exceptional print quality, and it will last for a long time. So, what are you waiting for? Start your mornings in style with this day trader mug and the broker gift mug that you've added to your order.
Conclusion
For a good reason, Jeep off-roaders are some of the most popular vehicles on the market, they are perfect for enjoying the great outdoors.
Whether you're looking for a vehicle to explore remote trails or just want to drive around in the dirt, we've got the best jeeps for off-roading. Check out our blog to explore our selection and make your purchase today!