"Recently I accidentally put off-road diesel in my truck."
The fuel system on the truck runs on diesel fuel, and if you put off-road diesel in it, you can damage the fuel system. You can also damage the engine if you use off-road diesel in your engine. Is that true? So, if you are planning to use off-road diesel, make sure that you use it properly and consult your truck's owner's manual. Continue reading if you want to do that.
Before we continue our discussion if you want to get more information about off-road diesel, you can read this article: What is Off Road Diesel – A Complete Guide
---
I Accidentally Put Off-road Diesel in My Truck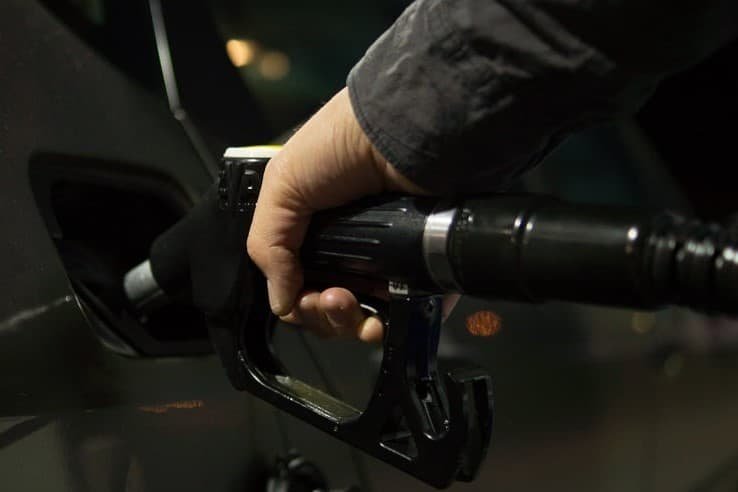 So, will your truck be harmed by off-road diesel? No, your truck won't be harmed by off-road diesel. However, as it isn't supposed to be offered for use in on-road vehicles, using it is prohibited. If the authorities find out that you've been using it, you'll be hit with a large fine.
Although it is technically possible, it is forbidden to use red diesel for personal use. In other words, utilizing it illegally (such as for your personal truck or automobile) makes you somewhat of a criminal.
Technically speaking, it would be considered tax avoidance. Additionally, red diesel used to have more sulfur than regular diesel. More on that will follow.
---
What is Off-Road Diesel
Off-road diesel is used by industrial, construction, and agricultural vehicles that don't use public roads, as the name would imply. It is not taxed, allowing for a more affordable price range. You risk receiving a sizable fine if you use red-dyed diesel in the truck you use to travel to and from work.
Both state and federal tax regulations identify nontaxable diesel fuel usage. Despite the fact that all states and territories must abide by federal rules, some state-specific applications could be allowed. Tax rates also vary from state to state, although federal taxes remain the same across the board.
In order to lower emissions control as part of the clean air program, increased rules for off-road diesel are intended. Off-road fuels are producing less air pollution by lowering the sulfur level. Exhaust emissions have frequently been cut by as much as 90%.
Find more about the difference between off-road diesel and regular diesel in our article here: Off-Road Diesel vs Diesel
---
How to Use Off-Road Diesel
It would be alluring to use tax-exempt fuel for usage on public roads given the increase in fuel prices.
However, you should be aware that there are severe fines for using off-road diesel on public roads before you start stockpiling tax-exempt fuel. Additionally, failing to disclose that you used this gasoline lawfully could result in you losing out on tax exemptions.
Off-road diesel is solely intended for machinery and vehicles that don't travel on public streets and highways. While a combine or skid steer may be operated lawfully with dyed diesel, the commercial truck that transports them cannot.
Diesel that is exempt from taxes is widely used by farmers and construction companies for their cranes, bobcats, backhoes, and other heavy equipment.
In addition to being used to power carnivals and fair rides, dyed diesel can also be used to run generators for trailers and houses.
---
Run Off-Road Diesel
Off-road diesel fuel is intended for off-road applications. This implies that you can pour it into a generator, a tractor, or another piece of machinery. However, using off-road diesel in a truck or car that is being driven on a public road is categorically prohibited.
Running off-road diesel on a road is only really unclear when it comes to refueling non-highway cars that are crossing a highway.
You may always use off-road diesel in automobiles not intended for highway use, claims LearnDiesels.com. Tractors for farming or specialized tools for building are examples of this.
Tractors and other agricultural vehicles can also be driven on select roadways. Whether you are operating a farm business, the legislation in your area, and how far the tractor has traveled from its registration address all play a role in this. However, you don't require on-road fuel to operate the tractor if you can do it legally on a road.
---
Why Can't Run Off-Road Diesel on the Road
Off-road diesel is less expensive since there are no federal or state highway fees to be paid when you purchase it. However, this implies that using it to drive a vehicle on the road constitutes tax evasion. That is a grave offense.
Every gallon of diesel carries a 24.4-cent highway fee imposed by the federal government. State fees range from 12 cents to 67 cents on top of that.
Although it may seem like a lot of money, this fee supports the upkeep of your roadways. For what reason is the tax you pay at the pump? As a result, those who use larger vehicles or drive more frequently pay more.
You have not paid the cost of driving on the roads if you fill your petrol tank with off-road fuel. Consequently, it is unlawful to drive on the road.
What do you think your spouse loves the most? Get this fantastic husband coffee cup if the answer is yes! It's a product of a craftsman who is proud of his work. It's a wonderful way to show your love for them as well!
---
Conclusion
It is unlawful to use off-road diesel on a road for any reason. Doing so can lead to hefty fines and jail time. Always use fuel that is expressly for highway driving. Although diesel fuel can be used off-road, it is less expensive to use regular fuel and the tax you pay at the pump goes towards road maintenance.
You must use fuel that is specifically for off-road driving. In addition, you must pay taxes to support road upkeep.