Overlanding is a great way to explore the great outdoors and experience new places. But it can be tough to navigate your way around without the help of a good GPS. In this blog post, we're going to take a look at the best Overlanding GPS units out there and share our picks with you.
We'll cover the features each device has to offer. So whether you're planning your first overland trip or you're an experienced overlander, be sure to check out our top picks!
Before you continue, you can check out more articles about Overlanding in this article: GPS for Overlanding – A Guide
---
Best Overlanding GPS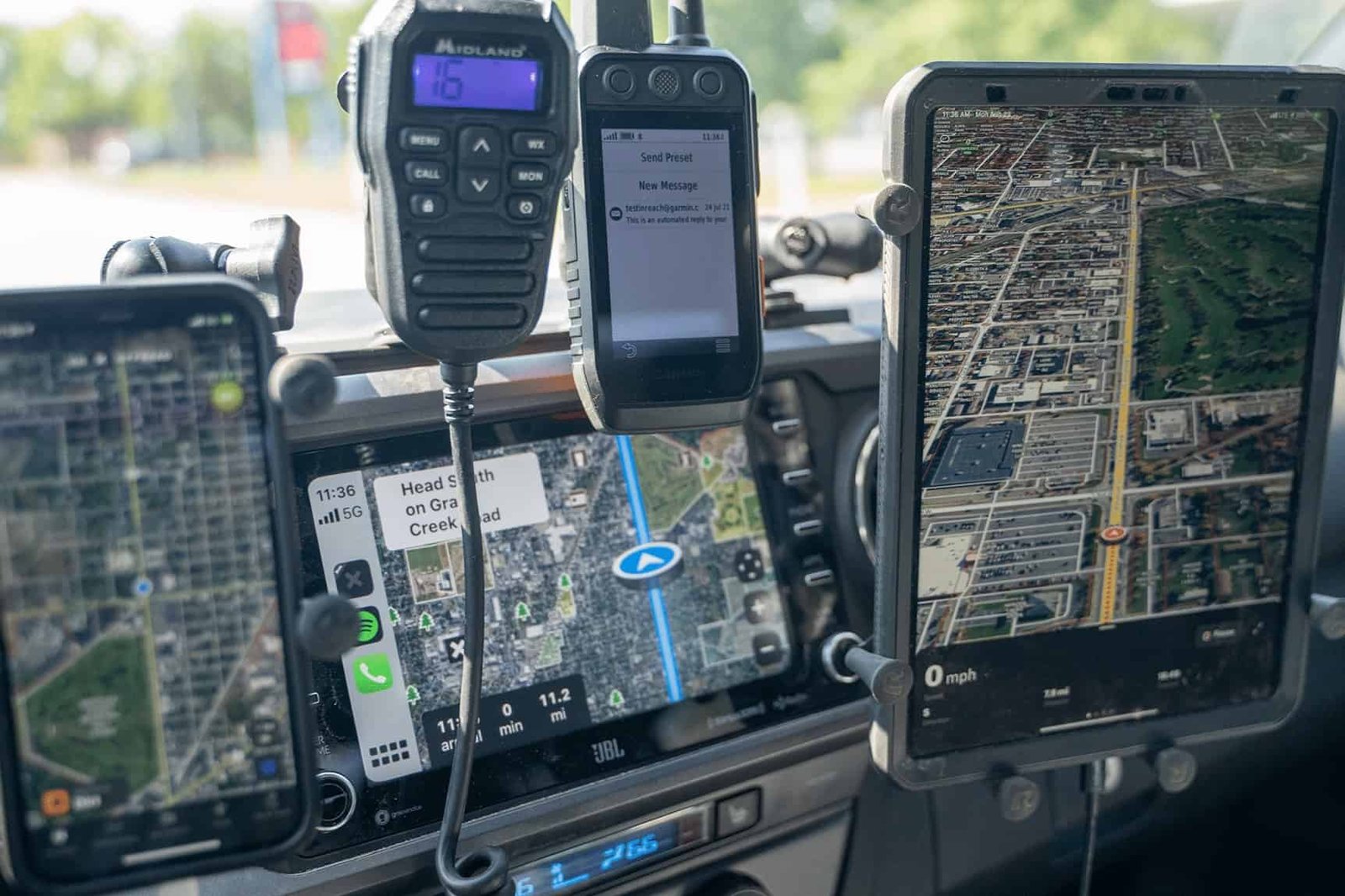 An Overlanding GPS is different from the standard GPS found on your car's dashboard. An RV GPS features places of interest along certain routes and is intended to safely guide campers over conventional roadways.
When it comes to Overlanding, a good GPS is a must-have. Not only does it come in handy for navigation, but it can also be used to track your distance, track your coordinates and track your waypoints. Some of the best Overlanding GPS units on the market include:
Overlanded is a tough, multi-purpose navigator with a 7″ color touchscreen that offers topography maps for off-grid navigation in addition to turn-by-turn directions for on-road navigation. To wirelessly sync your tracks and waypoints across your overland navigator, smartphone, and desktop, use your Garmin explore account. BUY YOUR GPS HERE
Features
North American street and topographical maps
Touchscreen
Magnets make it simple to mount
entirely wireless
It is preconfigured with POIs and camping spots that overlanders could find handy.
Additional storage of up to 64GB is available for use when using Garmin Explore to download new maps.
appropriate with InReach (subscription required)
Specifications
the 6.95-inch screen
7.84 x 0.93 x 4.79 inches in size
Touchscreen, LCD screen with full color.
Map type: North American street and topographical maps.
Wireless connectivity type
The time between charges: 3 hours
A 4-inch color touchscreen with dual orientation and glove compatibility is available on the new Montana 610t camo. Features a 1-year subscription to Birdseye satellite imagery, preloaded topo U.S. 100K maps, and a distinctive camo design.
Features
Downloadable topographic maps with satellite imagery
LiveTrack and weather predictions when connected to WiFi
It can be used to plan routes, look at previous journeys, etc. with the Garmin Explore program.
connects to the Global Iridium satellite network for two-way communication, rescue monitoring, and SOS (subscription required)
Specifications
Three-inch screen size
6.4 x 2.6 x 1.4 inches in size
TFT color display kind of display
Maps of a topographical nature
three types of connectivity: Bluetooth, WiFi, and Ant+
Longevity of the battery: up to 200 hours
Options for Garmin Adventurous Routing Find winding or hilly routes for a thrilling and enjoyable ride.
Garmin Explore makes it simple to store and review routes, tracks, and waypoints on your navigator, smartphone, and PC.
Features
Topographic maps, including complete off-roading maps, are already loaded.
Direct spoken commands to a Bluetooth headset
Follow your travels
either battery-powered or motorcycle-wired
compatible to download or share routes using the Garmin Drive app.
It alerts you to obstacles on off-road trails.
Waterproof and drop-proof
Specifications
Size of screen: 5.5 inches
1 x 5.8 x 3.5 inches in size
TFT color display kind of display
Type of map: satellite, street, and topographic
USB Connectivity Type
No battery is included.
For those who want a GPS that they can easily slip into their pocket, the Garmin InReach Explorer+ is the perfect option. This GPS was created for people who genuinely enjoy the excitement of venturing off the main path.
Features
geographic atlases
With a subscription package, you can get access to two-way messaging and the weather.
Automatically share location information.
battery life of 30 hours
able to connect with a mobile device to add more maps
Specifications
Size of screen: 2.3 inches
1.5 x 2.7 x 6.5 inches in size
LCD color display, kind of display
Type of map: satellite and topographic (must download)
Bluetooth connectivity for phones is a type of connectivity. Otherwise, wireless throughout.
The battery is included. 24-hour period.
Always wish to document your Overlanding journeys with photos or videos? The TRX7 might be the best option for you. There is an 8MP rearview camera included.
There are other modes available, including time-lapse and video recording. You have two options for starting the recording: manually or by setting it to begin as soon as you enter a trail.
Features
Topographic charts
Publicly available route planner
the capacity to devise off-road routes
camera in the rearview to capture your trips
Navigation via a touchscreen
a 3D base map
Specifications
Seven-inch screen
8.3 x 5.2 x 0.82 inches are the size.
LCD color display, kind of display
Topographical and street-level photography
Wireless connectivity type
4000 mAH battery Lithium-Ion
---
Want to thank your coworker for giving you a present? The print quality on this coffee mug is excellent, and it will last a long time. We make our dad jokes in such a way that you'll laugh! This coworker coffee cup would delight anybody who received it! It's perfect for any occasion. Compare the difference with other coworkers when you grab this hilarious coworker coffee mug.
Conclusion
Overlanding is a great way to explore the great outdoors and see the world in a different way. However, the process can be challenging and risky, which is why it's important to have the right gear with you.
We have listed the best Overlanding GPS units on the market to help you make the best decision for your needs. Read on to find out which GPS is best for you and start your Overlanding journey today!