Jeep is one of the coolest brands out there, and for good reason. The jeeps they produce are not only great off-roaders, but they're also stylish and easy to drive. If you're looking for the best jeeps for off-road use, then you should consider checking out these models.
Each one of them has its own unique features that make it perfect for off-road driving. So what are you waiting for? Start shopping for your perfect off-road jeep today!
Before we start, you can read more about off-road Jeeps in our article: Best Off Road Jeep – A Guide
---
Jeep is One of the Most Popular Brands
According to Brand Keys, a brand loyalty consulting firm based in New York, Jeep has been crowned the "most patriotic" brand and has been unbeaten for 20 years.
"The Jeep brand is a classic. Its ability to literally own the value of patriotism seems timeless," says Brand Keys president and founder Robert Passikoff.
"That value, 'patriotism,' is the emotional part of decision-making that accounts for an enormous portion of why consumers have emotionally engaged with the brand. Jeep resonates a degree of allegiance consumers recognize, appreciate and, most importantly, act upon when making a purchase decision."
Over 5,800 consumers between the ages of 16 and 65 who were evenly distributed in terms of gender and political leanings were polled by Brand Keys to determine the rankings for 2022. The emotional engagement metrics developed by Brand Keys were used to rate the emotional "patriotism" of over 1,172 businesses. Overall, Jeep was chosen as the winner once more.
"The Jeep brand has become synonymous around the world for outdoor adventure and freedom, and being recognized as America's most patriotic brand for two decades running is a testament to our passionate Jeep community and to all those who protect our independence," says Jim Morrison, Senior Vice President and Head of Jeep North America.
---
The Best Jeeps for Off-Road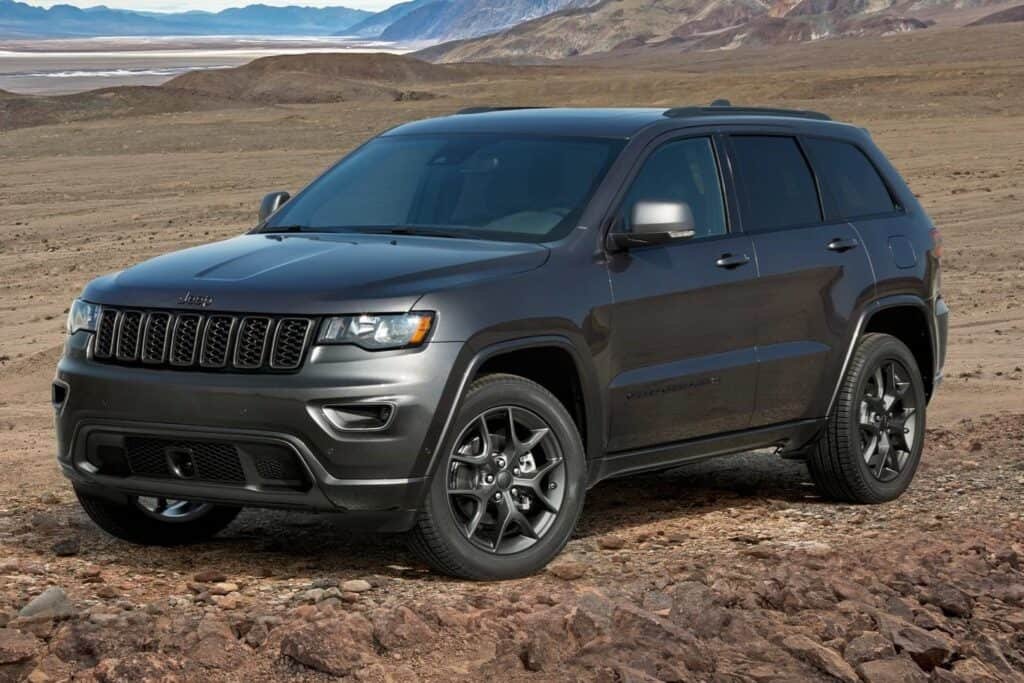 The Grand Cherokee
When considering which Jeep is best for off-roading, the Grand Cherokee may not be the first vehicle that springs to mind, but it has some promise.
Since the Grand Cherokee is the Range Rover of America, it shares many of the Range Rover's off-road capabilities.
First, the vehicle's ride height may be adjusted thanks to the air suspension that it has. The Cherokee delivers a very acceptable 10.9 inches of ground clearance at its highest setting.
The Cherokee adopts the new vehicle traction strategy, which involves raising wheels and retaining grip via cunning differentials and traction control systems. The ride is tippy as a result, yet even with the wheels three feet in the air, it continues to move.
It has a low-range transmission, just like every decent off-road vehicle should.
The Jeep Gladiator
In essence, the Jeep Gladiator is a bed-equipped Wrangler that is longer. It should come as no surprise that it is listed as the second-best Jeep model for off-roading.
It is a fantastic platform to modify and use off-road because of the body on frame structure, strong axles up front and back, and modular body.
The Rubicon models come with 33-inch off-road tires, lockers front and back, and detachable sway bars for more suspension movement.
More people are seen pushing older models off-road to their limits, and more businesses are creating new aftermarket accessories to increase their functionality.
The Gladiator's longer wheelbase and rear overhang, which can cause clearance concerns on challenging routes, are the reasons it comes second and not first in the list of the finest Jeep models for off-roading.
The Jeep Wrangler
The Wrangler is undoubtedly the best Jeep vehicle for off-roading. In fact, as was stated at the outset of this piece, we think it is, all things considered, the best off-road vehicle available right now. Everything is founded on facts.
It boasts solid axles, dual lockers, detachable sway bars, and limitless aftermarket support, just like the Gladiator. It may be used for anything, from a straightforward overland build to a full-fledged rock crawler.
The back overhang is small, the wheelbase is shorter than the Gladiator's, and the excellent drivetrain ensures you maintain a grip on any surface.
Whatever some may think, the Jeep Wrangler has unrivaled credentials in the off-roading and rock-climbing scenes. The recipe has been the same for both the new JL and the vintage CJ versions. As has been demonstrated multiple times, basic and old school prevail in this situation.
---
Buying Guide for Off-Road Jeeps: Things to Consider
Jeep lovers rejoice! The best off-road jeeps are now available for purchase, and there's no reason to limit yourself to just the traditional jeep models. With so many different types of jeeps to choose from, it can be hard to make a decision. That's why we've put together a buying guide to help you make the best choice for your needs.
Before making your purchase, be sure to consider the purpose of the Jeep – is it for driving on pavement or dirt? Once you have determined this, compare prices and specifications to find the perfect jeep for you.
Think about what features you need in order to enjoy off-roading, such as a powerful engine and 4WD capabilities. And lastly, before making your purchase, be sure to research different types of off-road jeeps to get a better idea of what fits your needs and style. Jeep lovers, this is your time to shine!
Find the key things to keep in mind when choosing an off-road Jeep in our article: Best Jeep for Off-Road – 7 Keys Keys to Consider
Do you need a little extra motivation to achieve your goals? You may commemorate every accomplishment with a hilarious shot glass that makes you feel just like you're in the pub or bar with Motivational Shot Glass. Our shot glasses are ideal for your party because they are dishwasher safe and sturdy.
---
Conclusion
Jeep is one of the most popular off-road vehicle brands in the world, and for good reason. From the Grand Cherokee to the Jeep Gladiator, these vehicles are perfect for exploring off-road terrain.
In this blog, we've reviewed the different best jeeps for off-road driving and provided a buying guide to help you make an informed decision. So what are you waiting for? Get out there and explore some of the best off-road trails around!