So you've decided to buy a Jeep Liberty! wonderful choice! But before you drive off into the sunset in your new jeep, make sure you're aware of all its capabilities. This article will outline the Jeep Liberty Offroad and the Jeep Liberty's off-road specs, including its ground clearance, torque, tires, etc.
Additionally, this post will discuss some of the challenges that users have experienced with the Jeep Liberty off-road. So go ahead—drive your jeep wherever you want to go!
However, before we continue, we have another article about Jeep Liberty, just in case you need more information. Go to: Jeep Liberty for Off-road – A Complete Guide
---
The Jeep Liberty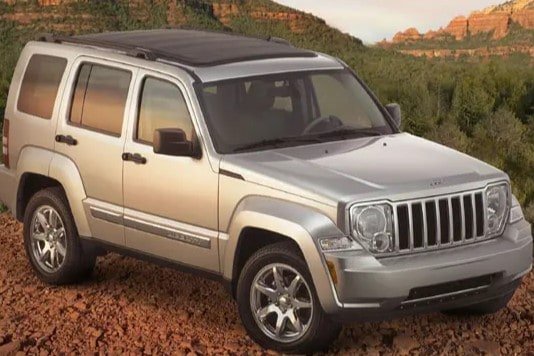 Jeep Liberty owners rejoice! The all-new Jeep Liberty is finally here, and it's perfect for anyone looking for an off-road adventure. With its powerful engine and tough chassis, the Jeep Liberty is perfect for tackling any terrain. Not to mention, its spacious seating and cargo space make it a great choice for weekend camping trips or longer journeys.
Plus, its durable body makes it a reliable choice for anyone looking for a long-term vehicle. Thanks to its comfortable seats, the Jeep Liberty is perfect for anyone looking for an enjoyable off-road experience. So, what are you waiting for? Go out and get your Jeep Liberty today!
Jeep Liberty OffRoad
The second-generation Jeep Liberty, marketed as the Jeep Cherokee outside of the United States, was produced from 2008 to the 2012 model year before being replaced by an entirely new Jeep Cherokee that just shared the name.
While this means that looking at older cars at used car dealerships for a Jeep Liberty than you would for a Jeep Compass or Jeep Patriot, the Jeep Liberty's RWD design and 3.7L V6 engine offer it significantly superior performance and making it one of the greatest real off-road SUVs.
The Jeep Liberty is barely bigger in terms of dimensions than the Jeep Patriot, but it weighs a lot more due to its more robust construction. But with 210 horsepower and 235 lb-ft of torque from its V6 engine, you probably won't even notice the Jeep Liberty's extra heft.
Unfortunately, the Jeep Liberty's available transmissions are not as good. A six-speed manual transmission was initially an option, but after the first generation, this choice was eliminated, leaving only a dated four-speed automatic.
Although having only four speeds may result in low highway fuel economy, it is still a better option for off-road driving than the CVT found in the Jeep Compass and Jeep Patriot.
---
Challenges Experienced With Jeep Liberty
Owners of Liberty Jeeps typically have issues with the windows, engine, and fuel system. When the fuel tank was full, several drivers reported that the fuel pump nozzle wouldn't immediately shut off, causing an overflow. Others reported that their car would not start or run.
Transitioning from two-wheel drive to four-wheel drive on the 2007 model can be difficult, especially for female drivers. This is a result of their difficulty shifting the transfer case and their preference to employ an electronic push-button in its place.
Despite these difficulties, reviews of the 2007 Jeep Liberty, for instance, praised its "excellent off-road skills." In a Malibu off-roading event with other Jeep models, the Jeep Liberty also shone.
We have an article about a review of Jeep Liberty in our article: 2007 Jeep Liberty Off-Road Review – The Perfect Small SUV
---
Jeep Liberty's Off-road Specs
Off-road, yes. However, if you intend to travel on truly rocky terrain, it's not the best option. It excels in retaining excellent towing capability on rougher roads, such as those found at a campground.
Here are the off-roading specifications for the Jeep Liberty:
Ground clearance
Knowing your vehicle's minimum ground clearance, which is the measurement of the space between the lowest point of the chassis of your automobile and the ground, is a good idea if you intend to go off-roading. Your undercarriage will have an easier time navigating hazardous uneven terrain the higher you are off the ground.
The minimal ground clearance for off-road driving is 8.8 inches. However, a Jeep Liberty only has 7.8 inches of clearance, which is a whole inch less. With 9.7 inches more ground clearance than the Liberty, the Wrangler is significantly superior for off-roading.
Torque
Low-end torque is what you need to overcome challenging off-road terrain obstacles. Because it can generate a lot of torque at low RPMs, a car can overcome topography and overcome substantial impediments at low speeds.
In this category, the Jeep Liberty performs admirably because of its ability to generate 235 lb-ft of torque at a memorably low 4,000 rpm.
Tires
When it comes to tires, there are a few things you need to keep in mind. The 16-inch alloy wheels and P225/75R16 all-season tires on the Liberty are adequate for off-road driving, although they might be improved.
Drivetrain
The Selec-Trac II Active Full-Time 4WD, an electronically controlled system that enables drivers to convert between 2WD and automated 4WD, is another feature of the Liberty that stands out.
The 3.7-liter V6 engine in the Liberty is competent, but it only generates 210 horsepower. Another aspect of the Liberty that you'd probably prefer to live without is its poor fuel efficiency.
Angles
The approach and departure angles of a vehicle have a significant bearing on its off-roading capacity:
The highest angle at which a vehicle can climb without being impeded is called the approach angle.
The maximum angle at which a vehicle can descend without interruption is known as the departure angle.
With an approach angle of 28.7 degrees and a departure angle of 29.9 degrees, Liberty's performance here is fairly respectable.
Read also about Jeep Liberty in our blog: Off-Roading Jeep Liberty – 3 Tips For the Perfect Ride
---
Conclusion
The Jeep Liberty is definitely a fantastic car for those who want to explore nature in their own way. It features a powerful engine and off-road tires that can handle any terrain, making it perfect for tackling challenging terrains.
Additionally, its on-road capabilities are impressive – making it perfect for hitting the open road or going off-roading. If you're looking for an exciting vehicle that can take you anywhere you want to go, don't miss out on the Jeep Liberty!
Are you looking for the perfect present for someone who enjoys the outdoors? This hunting-lover coffee mug is perfect for anyone who enjoys hunting, fishing, or anything nature-related! Not only is it a lovely cup, but it's a thoughtful present that they'll appreciate on their morning coffee runs and vacations.