Jeep Liberty off-roading is one of the most exciting activities you can do in outdoors. Not only does it offer an incredible driving experience, but it's also a great way to see some of the best natural scenery in the United States. If you're interested in exploring off-roading on your Jeep Liberty, this guide is for you!
In this post, we'll go over the best off-road vehicles you can use instead of the Jeep Liberty, and we'll also provide the best off-road alternatives to the Jeep Liberty.
However, before we continue, we have another article about Jeep Liberty, just in case you need more information. Go to: Jeep Liberty for Off-road – A Complete Guide
Ready to go off-roading? Let's get started!
---
Jeep Liberty Off-roading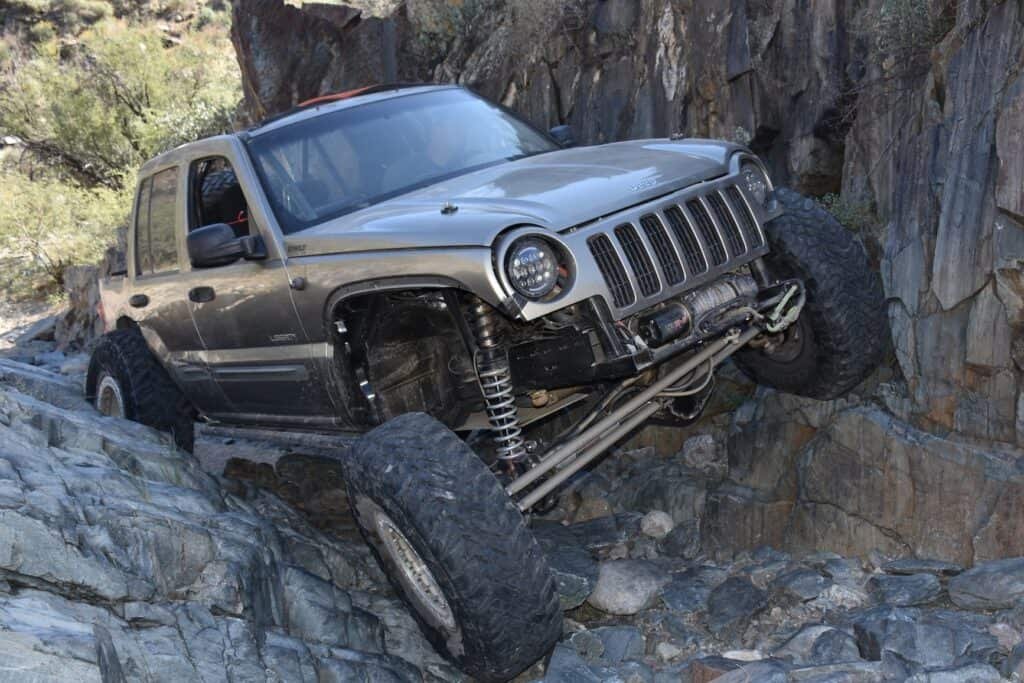 Do Jeep Libertys roll over easily
Particularly the Liberty, this range of SUVs is susceptible to rolling over due to its relatively short wheelbase in relation to its height.
The Jeep Liberty's increased center of gravity and short wheelbase increases the danger of rollover accidents for both drivers and passengers.
These mishaps happen when a car's center of gravity shifts during a sharp turn or following a side-impact collision. The effect is that the vehicle is dragged downward and may roll over as a result of the incident's momentum.
Each year, the National Highway Traffic Safety Administration grades the safety of American consumer cars, noting how well they fare in several safety examinations.
Many SUVs in particular show the risks of a high center of gravity by scoring far worse in rollover safety testing. This is also true with Liberty.
The Liberty's earlier variants had a particularly high risk of rollover. Only two out of five stars were awarded to these early versions, much less than even full-sized SUV cars. In the ensuing years, these ratings increased to three stars.
The 2012 model Liberties still have a narrow wheelbase, which raises the risk of a rollover accident despite the fact that 2008 demonstrated significant improvements and revisions in terms of vehicle control and safety.
These cars still only have three-star ratings from the NHTSA, which makes them average in terms of preventing rollover accidents and, consequently, accidents involving roof crushes. This is mostly because of this feature.
Read more about Jeep Liberty: Off-Roading Jeep Liberty – 3 Tips For the Perfect Ride
Is a Jeep Liberty Trail Rated
As Trail Rated vehicles, Liberty 4×4 models satisfy or exceed the minimum standards specified by Jeep Engineering and the Nevada Automotive Test Center.
Traction, ground clearance, maneuverability, articulation, and water fording are the five performance categories in which Trail Rated vehicles are supposed to excel.
Ground clearance
With plenty of space between the underside of your vehicle and the ground thanks to Trail Rated® ground clearance, you can drive over boulders and logs without risking underbody damage.
When going around is not an option, the approach angle, break-over angle, and departure angle are all optimized to help you cross.
Water fording
You can cross waterways that other cars wouldn't dare attempt thanks to your Trail Rated® capability.
To help safeguard your car when driving through overflowing creeks, streams, and deceivingly deep rainy puddles, electrical connections and body openings are sealed, and the air intake is positioned higher.
Articulation
Although the toughest terrain usually makes for the most exciting experiences, strong articulation is useful in all kinds of situations.
Maximum suspension flexibility is necessary for areas with extensive construction or deep potholes. When one or more of your tires are off the ground, higher levels of articulation aid in keeping your wheels engaged and stable.
Traction
Jeep® Brand Trail Rated® 4×4 cars and trucks have the traction to handle even the most challenging road conditions.
Your Jeep Brand Trail Rated vehicle is designed to withstand the roughest terrain on earth as well as get you home safely during a severe snowstorm.
Maneuverability
Swiftly avoid hazards on the route, swerve around tight corners, and safely negotiate the rigors of daily adventure.
Your Jeep® Brand Trail Rated® 4×4 vehicle can handle challenging road conditions and narrow trail switchbacks thanks to precise steering and adjustable wheelbases.
We have an article about a review of Jeep Liberty in our article: 2007 Jeep Liberty Off-Road Review – The Perfect Small SUV
---
The best Off-road Alternatives to the Jeep Liberty
Now that we've established that the Liberty isn't the ideal option, perhaps there is another option that would suit your tastes and, more significantly, carry you up a mountain. Here are a few rival models that offer many superior substitutes for the Jeep Liberty.
Best affordable alternative: 1995 Samurai Suzuki
The Samurai is a great, affordable option for off-roading and is a total blast in the mountains.
Best eco-friendly alternative: 2022 Jeep Wrangler Unlimited 4xe
increased ground clearance and an electric drivetrain that is very efficient
The best alternative for serious off-roading: 2022 Ford Bronco
The Bronco has a history of being a fierce off-road champion, and the 2022 model maintains this tradition.
---
Conclusion
If you're looking for an off-road vehicle that can handle a variety of terrains, the Jeep Liberty should be at the top of your list. This versatile off-road vehicle is perfect for exploring remote areas and discovering new trails.
In this guide, we'll discuss the different off-road capabilities of the Jeep Liberty and the best off-road alternatives to the Jeep Liberty. Make sure to read through this guide to get the most out of your Jeep Liberty expedition!
Do you want to have a novel way of starting your day? Whether you're not retired or not, this motorbike coffee mug is a fantastic gift for anybody who loves motorcycles. It's not just a fantastic way to remember what your strategy will be, but it's also a fantastic way to enjoy your morning coffee while you're on the go.