Do you have a passion for off-roading? Are you looking for an SUV that can handle the toughest terrain? If so, a 2005 Jeep Liberty off-road might be the perfect choice for you. Edmunds has compiled a detailed review of this vehicle, which includes specs, a lineup overview, and more.
By reading this blog post, you will learn everything you need to know about this off-road SUV and make an informed decision about whether or not it's the right car for you. Thank you for reading!
However, before we continue, we have another article about the Jeep Liberty, just in case you need more information. Go to: Jeep Liberty for Off-road – A Complete Guide
---
2005 Jeep Liberty Off-Road Review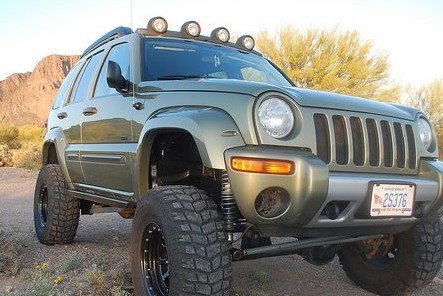 For someone who likes the outdoors, the Jeep Liberty offers a wonderful balance. It serves as a substitute for a car or wagon every day.
The Liberty has a new engine and two new transmissions for 2005. With the installation of a cutting-edge, 2.7-liter common-rail diesel engine, Jeep becomes the first midsize SUV to be offered with a diesel engine in the United States. A five-speed overdrive automatic transmission powers the diesel. The former five-speed manual transmission has been replaced by a brand-new six-speed model.
The Liberty Renegade has undergone the greatest changes for 2005, receiving an off-road foglamp package, a larger grille, a flatter hood, and taillamp protectors.
Four skid plates, functioning rock rails, and additional options like larger P235/0R16 all-terrain tires, a GPS radio, and an overhead light bar are now available for the Renegade.
Pros
Highly capable off-road, imaginative interior design, affordable diesel engine option, and still fundamentally a Jeep.
Cons
Gas engines are quite thirsty at the gas pump, less "carlike" on the road than most of their rivals, and have less cargo room.
What's new
For the 2005 Jeep Liberty, a brand-new diesel engine option is available for the vehicle. An updated front fascia, grille, fog lamps, fender flares, and body side moldings are among this year's exterior design improvements. Power window controls have been moved, new graphics and trim bezels have been added to the instrument panel cluster, and the seats are now more comfortable.
The Renegade variant gains a lower hood, a larger grille, taillamp guards, off-road foglamps, usable rock rails, and four skid plates. Last year's five-speed manual transmission gets replaced with a brand-new six-speed model.
Features & Specs
If you're looking for an off-road SUV that's perfect for family trips and weekend getaways, the 2005 Jeep Liberty is a great choice.
MPG & Fuel
18 City / 24 Hwy / 20 Combined
Fuel Tank Capacity: 20.5 gal. capacity
Seating
5 seats
Drivetrain
Type: Rear Wheel Drive
Transmission: 6-speed manual
Engine
Inline 4 cylinder
Horsepower: 150 hp @ 5200 rpm
Torque: 165 lb-ft @ 4000 rpm
Lineup
Sport, Limited Edition, and Renegade are the three trim levels for the 2005 Jeep Liberty. Both two-wheel drive and four-wheel drive options are available (4WD).
A 2.4-liter inline-4, a 2.8-liter turbo-diesel, and a 3.7-liter V6 are the three available engines. Both the Limited and the Sport variants can be equipped with the new diesel engine. Only a six-speed manual transmission is offered with the four-cylinder engine.
The heavy-duty five-speed manual or the four-speed automatic that was updated last year for smoother, quieter running are both available with the V6. The diesel comes standard with a five-speed automatic.
Walkaround
There is no denying that the Liberty resembles a Jeep thanks to its round headlights and seven-slat grille.
The Liberty's lofty body gives the driver a commanding perspective of the area in front of them. The Liberty's external measurements place it between the Jeep Wrangler and the Grand Cherokee.
The Jeep Liberty is somewhat longer than the Ford Escape overall, measuring 174.4 inches. While substantially shorter and lighter than the Grand Cherokee, it is longer than the Wrangler.
New body-color grilles, options for optional fog lights, and higher turn lamp placements for more protection from road debris are added to the 2005 Liberty Sport models. With a twin-tube construction, the front bumper spans the grill's bottom.
Interior
With 29 cubic feet of usable space behind the second row of seats, the Jeep Liberty's spacious cabin can hold five passengers and a lot of baggage.
Jeep claims that the Liberty's 40.7 inches of headroom, best in class, offers the driver a feeling of spaciousness when they are seated within. The passenger's side of the dash has a grab handle, and the door panels have scallops cut out for elbow rests. The Liberty feels lofty in the saddle, which is probably the first thing you'll notice when you sit down.
Driving Impression
The 3.7-liter V6 delivers a good response when coupled with the automated transmission. The V6 is capable of producing 210 hp and 235 pound-feet of torque. The EPA rates the manual's fuel efficiency at 16/22 city/highway mpg and the automatic's at 17/21 mpg.
The Sport model's standard 2.4-liter twin-cam four-cylinder engine is only offered with the five-speed manual transmission. The four-cylinder and manual transmission worked well together, though we believe it may struggle at higher altitudes. In addition to being less expensive initially, the 150-horsepower four-cylinder achieves 20/24 mpg.
We've also got the chance to take a 2005 Liberty with the brand-new 2.7 Turbo diesel for a test drive.
The engine, which combines a V6's 160 horsepower with a V8's (295 pound-feet) torque and a four-mileage cylinder arrangement, is surprisingly gratifying. We just conducted testing for a week, averaging roughly 21 mpg while spending a significant amount of time offroad in the low range.
When traveling at 70 mph, the diesel Liberty transforms into a smooth cruiser, showing only 2000 rpm on the tachometer. We got about 24 mpg on the interstate, which is about 30% more than the gas V6. The diesel has a 5000-pound towing capacity when using the optional hitch.
Read another review of Jeep Liberty in our article: 2007 Jeep Liberty Off-Road Review – The Perfect Small SUV
---
Who are the top ten serial killers in history that you can't recall? You should get a copy of our terrific serial killer mug if you can't recall who the 10 most well-known serial murderers in history are. You may demonstrate how much you adore your family by lighting up their day with this hilarious drama mug.
Conclusion
All in all, the Jeep Liberty is definitely an off-road enthusiast's dream car. It handled extraordinarily well, looked and felt like an expensive luxury vehicle, yet was reasonably priced for the features you received. If you're in the market for a 4WD SUV that can also double as your everyday driver, this should be at the top of your list!
For the last, if you want to go off-road using Jeep Liberty, make sure you check out this article: Off-Roading Jeep Liberty – 3 Tips For the Perfect Ride