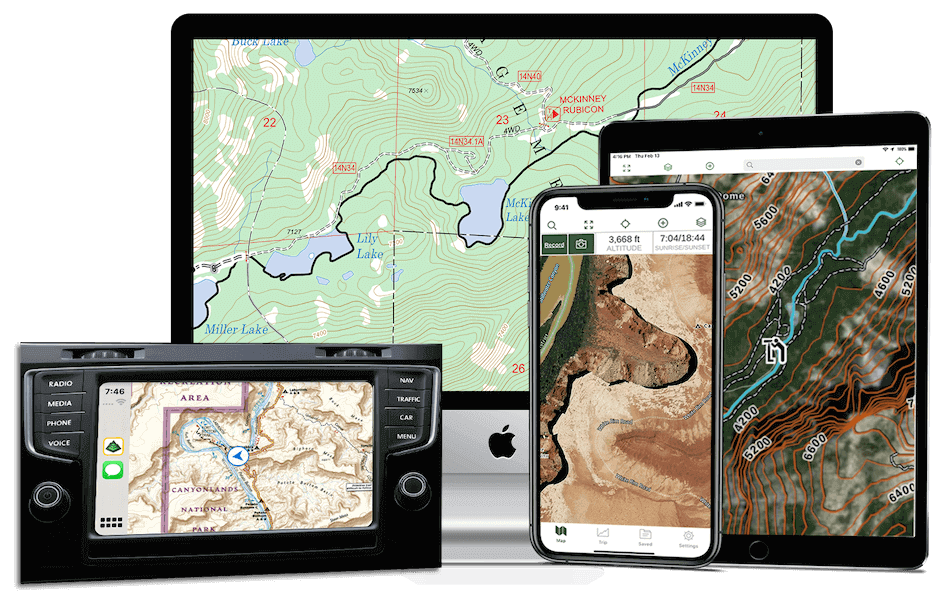 Overlanding is a great way to explore new places and see the world from a different perspective. But it's not just about camping and hiking – Overlanding apps can also be a huge help in terms of planning your trip and making sure you're always on the right track.
These apps provide everything from trip planning to route navigation, food and water sources, and more. So if you're planning an overland trip any time soon, make sure to check out the best Overlanding apps available!
---
Which Overlanding App is Best for You
When Overlanding, it's important to have the right tools and apps to help you along the way. That's why we've put together this list of the top 5 Overlanding apps – each of which has its own unique features and benefits.
iOverlander
iOverlander is the perfect app for anyone planning on Overlanding. It has an easy-to-use interface and allows you to plan your route and track your progress at all times. You can also find other overlanders in your area and chat with them about your plans. The app is free to download and use, so there's no reason not to get started!
This app can be used to locate campsites using a map or a list, for adventurers and travelers. iOverlander has a capability that lets you filter sites based on their sort, such as but not limited to casual campsites, wild camping, and established campgrounds. You may literally choose your adventure here, as there are no unnecessary restrictions.
Gaia GPS
If you're an overlander, Gaia GPS is the app for you! It allows you to track your route and log your activities in detail, making it a great resource for planning and recording your trip.
Using USGS (United States Geological Survey) and USFS (United States Forest Service) maps, Gaia GPS can navigate and track travel distances. In addition, you can see seasonal road closures and restrictions for high-clearance or 4×4 vehicles using the app's feature called Motor Vehicle Use Maps (MVUM).
onX Offroad
OnX Offroad is the perfect app for overlanders of all levels of experience. Its massive range of countries and regions makes it the ideal tool for anyone looking to explore new trails and roads without having to worry about damaging their vehicle.
In reality, it is one of the Tread team's most-used apps. We think it's worth the cost, even if you have to pay a fee. OnX Premium shows aerial, topo, and hybrid base maps with comprehensive trail overlays and customizable waypoints, in addition to presenting you terrain maps and some trails.
You can store unlimited offline maps and view all of the paths in the area at once, not just a selected few, with Onx Premium. There are almost 500,000 leisure spots that you may use whenever you want kept track of.
TrailsOffroad
Trailsoffroad is a great app that can be used to explore new trails and destinations. It has an easy-to-use interface that works well in both rural and urban areas, making it perfect for anyone looking for a new challenge or destination.
Whether you're on your phone or on the web, the app and website always provide thorough information about routes and trails, including waypoints.
The difficulty level, status (open or closed), distance, and duration of each trail entry is listed. The sort of trail (out and back, via), elevation, closest town, vehicle suggestions, nearby trails, and more are all covered in detail on this page.
Hema Explorer app
Prior to your journey, you may create a route with the Hema Explorer app, and afterward, you may monitor the path you took.
You may either schedule your journey or path on your personal computer and then once you are ready to go and leave, you may conveniently sync it to your mobile phone. On the way back, you may watch your journey, geotag various photographs, and tell your family about your adventure.
Using the Hema Explorer Cloud, you can achieve any of these. In addition to this, Hema's more maps are available without restriction, and its pro-membership subscription offers extra functionalities like an enhanced zoom level. The Hema Explorer app has a few downsides despite its great advantages: it is only accessible to Australians and North Americans.
---
What are Overlanding Apps
Self-sufficient overland travel to far-off places is known as Overlanding, and the journey itself is the main objective.
Unlike off-roading or a camping vacation, Overlanding typically entails going to distant areas that have just recently been explored.
Planning an overland trip can be a daunting task, but thankfully, there are Overlanding apps to help. These apps allow you to track your route, plan stops, and share photos and experiences with others. They can also help you navigate difficult terrain, making the trip much easier.
In addition, many Overlanding apps come equipped with navigational tools that make navigating much simpler. Overall, Overlanding apps are a great way to keep yourself organized while on the road!
---
What are the Benefits of Using Overlanding Apps
Overlanding apps are a great way to make planning and driving your Overlanding trip a lot easier. They're great for tracking mileage, temperatures, and other stats, and can even connect you with other overlanders who are on the same route as you.
In addition to this, Overlanding apps offer a wealth of information that can help improve your Overlanding experience. Some of the top Overlanding apps to consider are iOverlander, Gaia GPS, and OnX Offroad.
These apps provide detailed maps, weather forecasts, and other pertinent information that can help make your trip easier and more enjoyable. So, what are you waiting for? download one of these great apps and get started planning your Overlanding trip today!
---
Is there something special you're looking for? This is the ideal present for anybody who loves their profession. It's an inspiring coffee mug. It can be used in the microwave and dishwasher, not only making a great coffee cup, but also surviving high temperatures. Also, the print looks to be of excellent quality, and it seems to be durable.
Conclusion
Overlanding apps are a great way to organize and track your Overlanding trip. They offer a variety of features that can help you plan your trip, map your route, and monitor your progress.
Which Overlanding app is best for you depends on the specific needs of your trip. Make sure to explore the different options and choose the one that best suits your needs. We hope you find this blog post helpful!