Jeep fishing rod holder – Have you ever seen a Jeep Wrangler? At the same time, do you like to fish? If that's the case, you're probably worried about putting fishing rods in your wrangler. This article will give you a lot of information about fishing rod holders for Jeep Wranglers.
Some popular Jeep Wrangler rod holders are the Berkeley twist and lock rod holder, Angler's aluminum rod rack rod-6 holder, Extreme Max 3005.4275 Aluminum Pivoting Fishing Rod Holder, Angler's aluminum rod rack bumper mount, Angler's Fish-n-Mate 6 Rod Holder Fold-Down, Angler's 051 6-Holder Rod Rack, Rhino-Rack 572 Fishing Rod Holder, etc.
If you don't know enough about rod holders and other fishing gear, you might not be able to take your fishing rods with you in your Jeep. Now, just read this article and start making your dream come true.
The Best Jeep Fishing Rod Holder
You can put your fishing rod in a fishing rod holder and take it with you in your Jeep. But you can mostly carry your fishing rod in one of four ways with your Jeep Wrangler.
Inside your Jeep, on the roof of your Jeep, on the side bumper on the front of your Jeep, and on the back of your Jeep. Here are some details about some of the rod holders.
We've also written about several other cheap Jeep Wrangler mods you might be interested in. BUY YOUR ROD HOLDER HERE
Berkeley Twist Rod Holders
Let's start by talking about the Berkeley twist. You can put Berkeley twist-and-lock rod holders inside your Jeep. It's a safe way to store four rods horizontally.
Also, Berkeley has twist rings that keep the rods in the right spot. It also has grip pads made of foam. It is also easy to carry and strong.
BUY Berkeley Twist Rod Holders HERE
Rhino-Rack 572 Holder for Fishing Rods
With Rhino-Rack, you can put fishing rods on the top of your Jeep Wranglers. It is made of rubber, plastic, and aluminum. It can hold up to two sets of rods. Also, the Rhino rack can be used for more than one thing. You can carry skis, snowboards, and fishing rods.
Rod holders made by Angler's Choice
Another brand of fishing rod holder is Angler's. Some types of rod holders for anglers are the aluminum rod rack, the aluminum rod rack bumper mount, the Fish-n-mate rod holders, and the Angler's 051 6-Holder Rod Rack, among others.
But these rod holders are mostly made to hold up to six fishing rods. It can go in front of your Jeep Wranglers.
BUY ANGLERS CHOICE ROD HOLDERS HERE
Extreme Max Rod Holders
Extreme Max is another well-known brand of rod holders. It comes in different kinds, like the Extreme Max 3005.4275 Aluminum Pivoting Fishing Rod Holder, which is mostly used in Jeep Wranglers. It can hold up to six rods at once.
But each tube can hold a rod with a diameter of up to 1-5/8′′. Extreme max holders can hold the rods vertically in three different ways. At the top of each holder, there is a soft-touch vinyl cap that keeps things from getting broken.
How to Make a Fishing Rod Holder for a Jeep Wrangler at Home?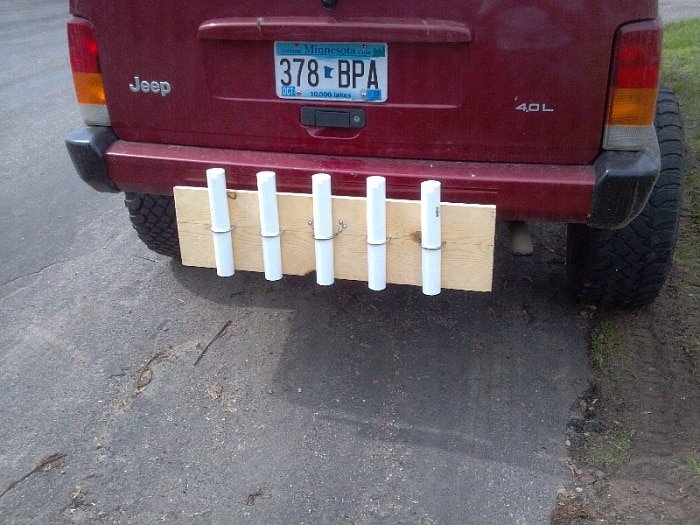 It's not easy to make your own rod holders at home. Most homemade fishing rod holders can be made in one of two ways. Using PVC pipes and using metal pipes.
Using PVC Pipes
You can first use PVC pipes. Cut up some PVC pipes into smaller pieces. Some of the pieces make up the base and pivot of the holder. These will be a little bit longer. And some of the pieces will be used to make the fishing rod holder.
The size of these pieces will be less. Now, get some screws and put the pipes together in the way you planned. After you make the full holder, put a bumper on it.
Using Metal Pipes
You could also use metal pipes. You can use metal pipes instead of PVC if that works better for your holder. Welding is used to join the pipes together.
If you can make holes for screws, you can also use screws to join things together. The last step is to attach the holder to the bumper.
How do you put a rod holder on a Jeep Wrangler?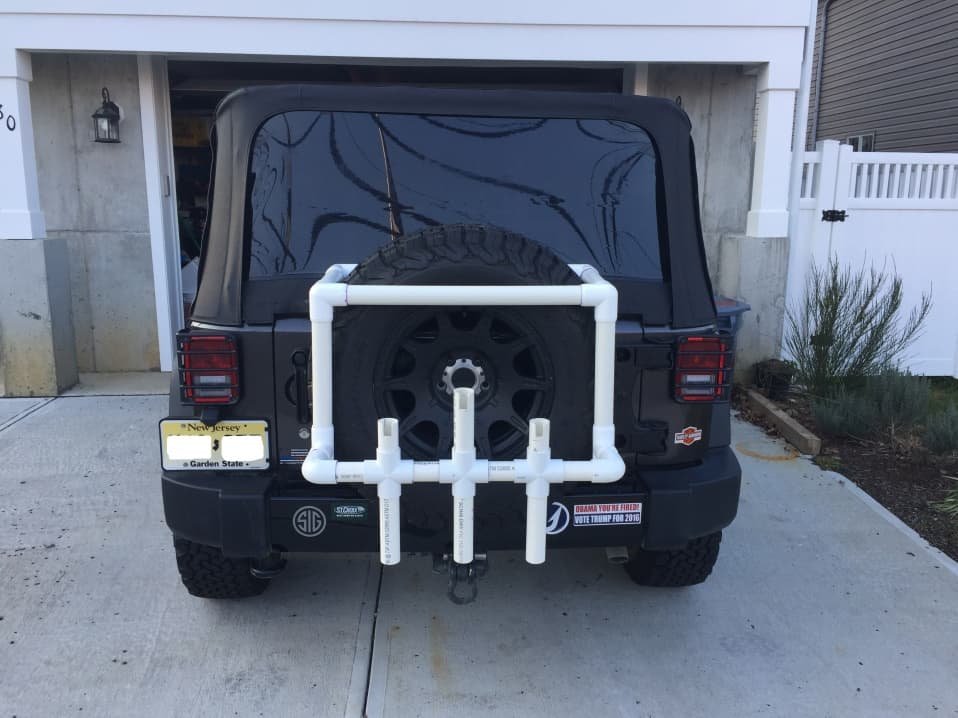 To put a rod holder on a Jeep Wrangler, you need a few things. For example, a screwdriver, a T-bracket, screws, and a machine for drilling. But different holders require different strategies.
Putting the parts in the Jeep
First, let's talk about the Berkeley twist and lock rod holder, which holds your rods inside the Jeep. Take note of where the screw holes are on the ceiling of your jeep by measuring them.
You can put it in the Jeep by drilling holes in the ceiling and using screws and screwdrivers to put the holder in place.
Putting it on the front or back of the Jeep
Second, Angler's and Extreme Max Roads can be mounted on the front bumper or on the outside of the back of the Jeep. The process is similar to making Berkeleys, but in this case you can use T anglers to join the pieces together.
It is used to connect the holder to the bumper. Use screws to put the holder, T-bracket, and bumper in place. If the bumper doesn't have the right holes, you can make them by drilling.
Putting things on the roof
You can put the fishing rod holder on the roof of your Jeep Wrangler using a number of roof racks. Rhino-Rack 572 Fishing Rod Holder has been talked about here.
There are plastic end caps that can fit into grooves on the Jeep door's hardtop. Make sure the end caps are far enough apart so that you can open and close the door.
How do you hang a rod holder without drilling?
It's hard to put a rod holder in place without drilling. But if you really have no other choice, there are a few things you can do.
First off, the rhino rack holder can only be used on the roof. You don't have to drill anywhere in this holder.
You could also tie the holder to the bumper with rope, tape, or any other material that works like rope or tape. But this method doesn't work nearly as well.
Because rough roads or rough travel can cause the rope or tape to tear, causing the holder to fall. Instead of screws, you have to use things that hold things together. To avoid drilling, that's the main difference.
Conclusion
If you want to carry fishing rod holders in your Jeep Wrangler, you need the right holders and parts. Depending on where you want to carry it, you have to choose the right holder. This article has already talked about the different property owners and what they own. You can choose based on what you want.
Also, you can make and use a holder you made yourself if you want to. But it takes skill to make these holders. So, it's best to use rod holders with a brand name.
For someone who likes to fish and travel with jeep wranglers, knowing about fishing rod holders is very important. I hope this gives you a good idea of what to do. So, don't worry about your upcoming trips and have fun!