Can a Jeep Wrangler Pull a Boat? This article is for people who like boating, fishing, and Jeeps. Most people know Jeep Wranglers for their ability to go off-road. But when it comes to pulling boats, they don't get nearly enough credit.
Can a Jeep Wrangler Pull a Boat?
Can a Jeep pull a boat? Even the Rubicon model of the Jeep Wrangler can pull between 2,000 and 3,500 pounds. This is only a little less than the Jeep itself, which weighs about 4,000 pounds. [1]
Don't go over the towing capacity. Each model has a different limit, so check the information based on the model you have. Here is some information about how much each model can pull.
Some Jeep Wrangler models, like the YJ, TJ, and JK, can only pull up to 2,000 pounds. If your boat is bigger than that limit, these models might not be the best choice for towing. [2]
But the Jeep Wrangler LJ, the Jeep Wrangler JK Unlimited, and the Jeep Wrangler JL Unlimited can all carry 3,500 pounds. The other models weigh 500 pounds less than this one. But to be safe, it's always best to stay under the limit. [3]
Also, you should think about how much the boat trailer weighs. Up to 2,000 pounds can fit in the trailer. So, make sure to figure out the total weight of the trailer and boat to see if they can be pulled by your Jeep.
This may look like it limits your choices, but there is still hope. Even for Jeeps with a lighter rating, there are boats that can be towed that weigh less. As you read on, we'll talk about the best kinds of boats to pull behind your Jeep Wrangler.
Ski Boats
Ski boats are a popular way to have fun on the water and are often used for recreation.
Most of the time, these kinds of boats are used for water sports like water skiing and tubing. Your Jeep Wrangler could work with a few different options:
Tige 2017 RZR 20– 3,100 pounds
Mastercraft Prostar 2017 20–3,000 lbs.
The Boston Whaler 170 Montauk weighs between 1,700 and 2,254 pounds
Pontoon Boats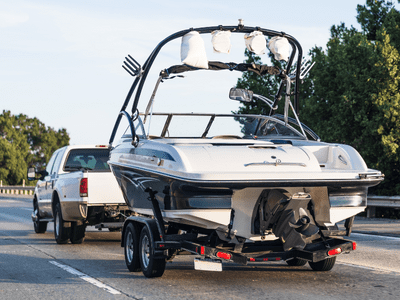 Pontoon boats are also used for a variety of water sports and activities. Some models can fit up to 10 people, so they are often used at family gatherings. You can also use them to ski with. If you like to fish, a pontoon boat is more stable than some other types of boats, which will help you not scare the fish away.
Some of these models can be pulled behind your Jeep Wrangler, which might come as a surprise since they are usually pretty big boats. Some of the better towing models are:
2,100 pounds: NauticStar Angler 193 SC
Avalon Catalina DRL 24 – 2,000 pounds
Lowe SS210: 1,900 lbs.
If you just want to hang out with family and friends on the water, your Jeep might be able to handle one of these.
Small Fishing Boats
One of the main reasons people want to pull a boat seems to be to go fishing. If you want to do that, you are in luck. There are several bass boats, which are a type of fishing boat, that are in the weight range you want.
Tracker Pro 2017 170 to 878 pounds
Tracker Pro Team 2017 175 TF – 1,010 lbs
Charger Elite 210: 1.9 tons
Bass Cat Jaguar is 2,150 pounds.
bestboatreport.com is the source.
Boats for one person (PWCs)
A personal watercraft, also called a PWC, is a boat used for fun on the water. Jet skis are probably the best-known type of personal watercraft (PWC). Some people might not think of it as a boat because it is much smaller than most boats. They are not very heavy and are easy to pull behind a Jeep Wrangler. Some popular model PWCs include:
838 pounds: FX Cruiser HO Full
Kawasaki Ultra 310 LX – 1,074 pounds
450 pounds: Sea-Doo Spark
Airboats
An airboat is a unique type of boat that might be able to handle your weight. This type of boat is often used in swamps and other places with low water. So, if you live near a marsh or lake where the water level is usually low, an airboat might work for you.
Most airboats don't weigh more than about 2,000 pounds. It could weigh up to 3,200 pounds with the trailer. This puts it in the range of weights that a few Jeep Wrangler models can handle.
Sailboats
The sailboat is one type of boat that is not in the table above. This is because the average sailboat is too heavy to fit in most Jeep Wranglers' weight limits. But there are two that are better than the rest.
130 pounds Sunfish Sailboat Classic
Minicat 310: 77 lbs.
These two boats are catamaran-style sailboats that all Jeep Wranglers could easily pull behind them.
There are two different kinds of trailer hitches.
There are two kinds of hitches: ones that carry weight and ones that spread out the weight. For some Class III applications, a weight-distributing hitch is sometimes needed. Choosing the right hitch and making the right electrical connections affects how your car handles, turns, and stops. It also lets you let other drivers know what you plan to do. [4]
[5]
Attaching the safety chains is a very important part of hooking up the trailer to your Jeep Wrangler. For it to be done right, the chains must go under the tongue. So, if the hitch fell, it would be caught by the chains.
Before you start towing, you should follow a few other safety steps. It is smart to check the trailer for rust. You can also make sure your lights are working by turning them on and off.
Some states need trailers that weigh more than 1,500 pounds to have a separate braking system. You ought to [6]
If you need to buy a braking system, you can choose from a few different kinds.
Brakes that are controlled by a computer
EOH brakes are electric over hydraulic.
Surge Brakes
Any of these systems would make it easier for you to stop quickly if you need to in an emergency.
With the low towing capacity in mind, you may also want to drive more slowly while towing. If you're going too fast while towing, it can be hard to stay in charge. Problems can also be caused by crosswinds. Because of these things, the best speed is between 60 and 65 miles per hour. You'll also need to make sure you don't use your cruise control.
Another important part of towing a boat with your Jeep Wrangler is making sure the tires are at the right pressure. Tires that are too inflated may wear unevenly and make it harder to get traction and stop. Underinflated tires get hot and may fail, which could cause the driver to lose control of the car. Most modern cars have a sticker on the inside of the driver's door that says how much air should be in the tires. [7]
[8]
With all of the above information, you should be able to choose a boat to pull behind your Jeep Wrangler and figure out how to do it safely. But what matters most is that you enjoy your Jeep and use it to its fullest.